INCREASE YOUR STRENGTH BY 10KG IN JUST 10 WEEKS WITH OUR FREE STRENGTH PROGRAMME
A Free Strength Programme Perfect For Beginners
This free programme is perfect for anyone who is new to strength training and wants to see big results in a short period of time. Not only will you see an increase in your overall strength, but you'll also be able to put on muscle and perform better in sports and life. So what are you waiting for? Sign up now and start seeing results!
DOWNLOAD FOR FREE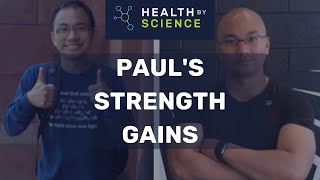 PAUL SARTE
Nuclear Physicist
"I went from squating a Les Mills bar to squatting 2x my bodyweight with Health by Science…"
WHAT YOU GET…
Ask us any questions, any time and we'll make sure you stay on track with your training and your strength goals.
Track your progress and get all the guidance you need with your own personal strength training spreadsheet.
DOWNLOAD FOR FREE
Understand how to perform the exercises with perfect technique so that you can get the most from each and every workout. It's like having your own Personal Trainer writing a programme for you.
STRENGTH TRAINING FOR BEGINNERS – YOUR COMPLETE GUIDE
A no-BS guide to strength training for beginners to get stronger than you've ever dreamed.
If you want to get strong but don't know how to start, this guide to strength training for beginners will have everything you need.
LEARN MORE