Learning how to lift weights can be intimidating and confusing. There are so many different exercises, equipment, and tips that it's hard to know where to start.
The best way for you to get started is by taking our free learn-to-lift guide that teaches you the fundamentals of weightlifting in a step by step manner. It will help you avoid injuries and get the most out of your workouts!
Our guide covers everything from proper form on common exercises like squats and push ups etc., We also have a section dedicated entirely towards nutrition with some great information about macronutrients (carbs/protein/fats) and micronutrients (vitamins & minerals).
WHAT YOU GET…
Whether you're looking to increase lose weight, or just get in better shape, this programme has everything you need. With clear instructions and a helpful guide, you'll be able to stick to your training schedule like a pro.
If you're a beginner just getting started we've got you covered. Featuring comprehensive tutorials, detailed workout plans, and helpful tips from our experts, the Learn to Lift members area is your one-stop shop for all things lifting.
These videos are packed with all the information you need to start getting fit today. With our easy-to-follow instructions, you'll be able to achieve your fitness goals in no time at all! So what are you waiting for? Get started today!
GET FREE INSTANT ACCESS
GET YOUR FREE LEARN TO LIFT GUIDE
Learn the basics of weightlifting, how to progress in your workouts, and how to stay safe while you lift. With this guide, you'll be able to get started on your journey to a stronger, healthier body.
GET FREE INSTANT ACCESS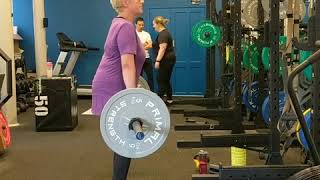 USE THE SAME TIPS WE USE WITH OUR CLIENTS
Every week we help clients achieve new levels of fitness. Take our client Rachel here who is now pain free and stronger than ever.
GET FREE INSTANT ACCESS
FREE NUTRITION MINI COURSE
Finally, an easily accessible and FREE mini course on nutrition that can help you lose weight and feel your best! In this mini course, you will learn everything from the basics of good nutrition to how to create a healthy diet that fits into your lifestyle.
LEARN MORE