WE HELP PEOPLE CONTINUE THEIR STROKE REHABILITATION IN EDINBURGH
Sign up for our FREE Stroke Rehab Programme to improve your confidence, mobility and independence.
CONTINUE YOUR STROKE REHABILITATION JOURNEY AFTER THE NHS
After a stroke, many survivors are discharged from the NHS without any rehabilitation plan in place.
This can leave many stroke survivors feeling isolated and unsure of where to turn for help.
Stroke rehabilitation is an important step in the road to recovery. At our centre in Leith, we offer a free Physio assessment for all stroke survivors and free access to try our classes. We also have a welcoming environment where survivors can socialise with others who are going through similar experiences. Or if you'd like a 1-1 rehabilitation programme we can offer this as well.
What Our Clients Are Saying…
YOUR REHAB DOESN'T HAVE TO STOP ONCE YOU'RE DISCHARGED
Most stroke survivors don't have the confidence to meet the recommended exercise guidelines. Improve your motivation, confidence and mobility in a safe and welcoming environment.
Get back to living your life.
Prevent long term disability.
Live the life you want again.
What You Need To Do…
Allow us to take care of you for a 60-minute group or 1-2-1 rehab session.
Continue Your Rehab Journey
After being discharged from NHS stroke rehabilitation in Edinburgh, it is important to continue your recovery. Otherwise, you might lose some of the gains after a stroke and be at risk for a second one. When should you progress with your recovery? This is when Health by Science in Edinburgh can come in.
BOOK FREE ASSESSMENT
Specialists In Stroke Recovery
The Physiotherapists at Health by Science can help with stroke recovery after being discharged from the NHS. They will be able to help you decide if exercise is appropriate for you, and if it is, they can set up a plan for you.
BOOK FREE ASSESSMENT
A Unique Approach To Your Unique Stroke
Having a stroke requires a completely different approach to exercise than for those who haven't had a stroke in Edinburgh. The stroke rehabilitation exercises that you will be encouraged to do will depend on the severity of your stroke, how long ago it was and your age.
BOOK FREE ASSESSMENT
What Our Clients Are Saying…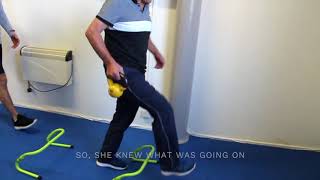 "For me, it's been one success after another."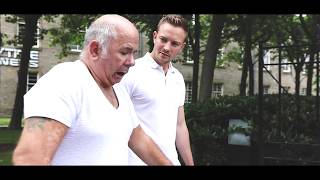 "It's challenging when people say what you have after 3-months is what you'll be left with."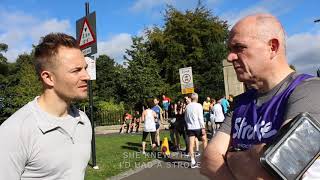 "I am now stronger than I was before I had my stroke."
Increase Your Independence
If you want to work towards getting stronger and more independent with your stroke recovery, then we will help. Our stroke survivors might be encouraged to take a holistic approach to stroke recovery that includes exercise for stroke, nutrition advice, and developing recovery skills to maximize your rehab gains.
BOOK FREE ASSESSMENT
Exercises Tailored To You
Your stroke rehabilitation in Edinburgh will be tailored to you based on your personal needs and wants. This is done through a person-centered approach which makes the process much easier for all involved.
BOOK FREE ASSESSMENT
A Comprehensive Assessment
During your first visit to Health by Science for stroke rehab in Edinburgh, we begin with a comprehensive assessment in order to understand the challenges you are currently facing. We will then use this information to create an exercise program that suits your preferences and abilities.
BOOK FREE ASSESSMENT
Learn About Our Approach With Our Free Exercise After Stroke Guide.
LEARN MORE
Regular Evaluation And Feedback
We will work closely with you over a number of weeks/months and regularly re-evaluate and alter your stroke rehab plan so that you will get the most out of it. This way we can keep track of any progress you make and improve upon the goals you've already reached.
BOOK FREE ASSESSMENT
Have A Laugh With Our Friendly Staff
Although stroke rehabilitation in Edinburgh is a serious topic, the coaches at Health by Science always try to find a lighter side to help stroke survivors laugh during their hard work as part of stroke recovery.
For those who have been discharged from the NHS but want to continue their stroke rehabilitation in Edinburgh stroke recovery, Health by Science are here to help.
BOOK FREE ASSESSMENT
Frequently Asked Questions
Do you offer discounts for disadvantaged individuals?
As a Social Enterprise our main focus is reinvesting our profits back into our social cause, which is to help stroke survivors.
We offer a select number of stroke survivors 50% off our services if they can't afford our normal rates. Please contact us if you would like to apply for this discount.
We appreciate getting private Physiotherapy isn't cheap but unfortunately, the costs of running a business are not cheap either.
Longer-term, however, we would like to increase our social impact by opening up a second rehabilitation facility in Edinburgh,  just like the one we have been running in Edinburgh successfully for the past 5 years.
As soon as we have the funds we will invest the money into this new facility so that we can put on more small group classes (max of 4 people). This will then allow us to keep the quality of our services very high whilst keeping the costs down.
How much can I recover from my stroke?
Every stroke is different but there are some reliable predictors of stroke recovery. These include:
Seriousness of the stroke
Type of stroke – intracerebral haemorrhage (ICH) strokes have a better recovery than cerebral infarction strokes.
Age
Access to rehab services.
While some health variables such as our genes are out of our control, some of the most significant ones are within our control.
With stroke survivors, for example, we know that exercise after stroke can be very effective; as can improving other lifestyle factors such as nutrition, sleep, stress and mindset.
Will I be able to run again?
The answer is, nobody knows. Your rehabilitation potential is influenced by some things you can't control, such as your age and the severity of your stroke. It is also often said that our genes are like a loaded gun, but it's our lifestyle that pulls the trigger.
However, as a stroke survivor, you will minimise the risk of another stroke and maximise the chances of reaching your rehabilitation potential by focusing on exercise, nutrition, sleep, stress, and mindset, which will maximise your chances of improving your mobility and the overall quality of your life.
Health by Science is here to help you do just that.
It's been years since I had my stroke, can I still improve?
Absolutely. Yes.
Current research suggests that most recovery is seen in the first weeks after stroke, with the recovery slope reaching a plateau between three and six months.
However, this trend correlates strongly with how much Physiotherapy and support the stroke survivor receives.
We know that very few stroke survivors use 'Exercise After Stroke' services, despite 29% of stroke survivors wanting more Physiotherapy once discharged home.
Furthermore, many stroke survivors undergo spontaneous recovery long after their stroke, which can be further facilitated with rehabilitative services such as ours.
What is the inclusion criteria?
If you do any exercise consistently, you can improve your mobility in day-to-day life. However, if you stop you will lose it.
Our approach to stroke rehabilitation is dynamic, innovative and linked directly to the very latest neurorehabilitation evidence-base.
Unfortunately, we can't help everyone and so limit our classes to stroke survivors who can:
Walk 10m with a walking stick
Have the mental capacity to attend a gym independently
If you don't meet these criteria then you can still access our 1-2-1 Physiotherapy services.
For more information about our approach to stroke rehabilitation, you can download our free ebook. This resource is for anyone who wants to know more about how we help our stroke survivors and how they can help themselves and others.